In considering the wide variety of exterior materials that we could use I half jokingly made the statement that I wanted a house built of concrete, steel and glass (design aesthetic #1).  Note that all of these are lousy insulating materials.  So why these materials??  From my personal perspective these were part of the commercial / industrial / modernist design aesthetic (we can call this design aesthetic #2) that I like.  So we asked ourselves why not a concrete exterior to the house??  Properly mixed and cured concrete certainly is a very durable, low maintenance cost material that does not require any exterior finishing as is proven in the millions of commercial buildings that are built out of concrete.  And if it is used without trying to make it look like something that it isn't then it meets a design aesthetic of "truth in materials" (design aesthetic #3) – it is what it is so don't try to hide this.  And if we use it this way we get the bonus of not having any additional cost for exterior finishing.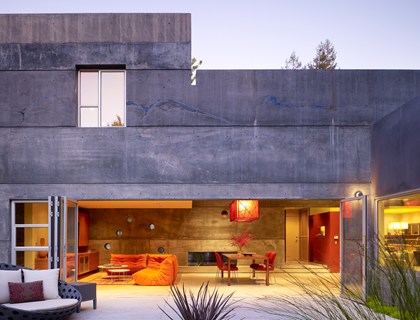 So how could we execute concrete exterior walls??  Certainly we could do poured in place walls – but these required lots of work in on site forms, dealing with all of the quality issues caused by weather, variations in concrete batches, etc.  Our architect / builder had done poured in place walls on a previous project so they were very aware of the issues with using them.  In particular the waste material from building custom wood forms was an issue.
The next thought was precast walls that could be cast in more controlled conditions that would then be set in place on site.  We looked at these fairly closely and even visited a factory where they were manufacturing walls that had a concrete exterior and were fitted with various materials to serve as studs in conventional walls.  We were convinced that we were on the right track on finding a material and method of making walls that met our exterior requirements – the panels would be "cool" as a way to meet our evolving design aesthetic and accomplish the our exterior durability / minimal maintenance goals  .
Further analysis showed that these panels that we had found still had some issues that we needed to consider.  First, they would still require insulation and interior finishing.  In that sense they solved our exterior goals but not our interior goals.  And they did not achieve the goal of thermally isolating the exterior and interior surfaces – we would still have to accomplish this.  They were clearly a big step away from conventional 2×4 construction – but were they a big enough step away??  Another concern was with this particular company's ability to execute the panels to the detail and precision that we expected our project to require.
Coming up next – Why concrete sandwich panels for our exterior walls? Part 3 – Step 2 toward concrete sandwich panels – the interior walls