On January 31st, at 3 PM, we finally closed on a construction loan.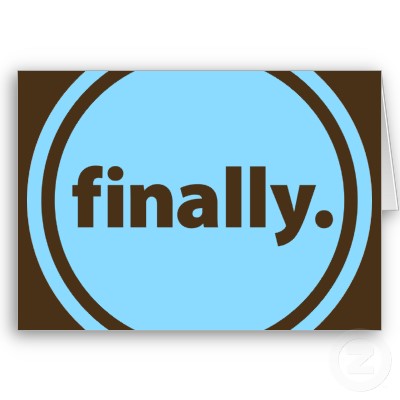 3 different banks.  3 appraisals.  Hundreds of hours of documentation submissions, faxing, follow ups, conditional approvals, changing conditions, new players and levels of frustration that have increased my already enormous library of swear words.
I know our project is "different".  It's large and we're asking for a pretty good chunk of change – money-wise.  However, 2 counterpoints to this concern:  we have VERY good credit and have never not fulfilled a financial obligation.  Ever.  Also, data published not too long ago says that jumbo loans and mortgages are MORE reliable than conforming loans.  It's never been a discussion about "ability to pay" but more trying to fit a square peg into a round hole.
And yes – we're "green".  Big deal.  Despite claims from the appraiser to be able to attribute value to green features, she did not. The process to refute an appraisal is amazingly flawed.  And because the appraisers are so sheltered from interaction with banks (trust us, it's for your protection – says the government) there's no accountability.
Energy costs in the US are really low.  And ultimately, rising energy costs are the only things that will drive REAL value into the appraisal process.  As long as we have artificially low energy costs, there's little incentive to build greener and even less incentive for banks to value green.
One thing that seems to be rather positive, is that more folks in the Western United States are building new buildings with their latest tech earnings.  However instead of creating an ostentatious palace on the side of a mountain in San Francisco, they are pouring money into DETAILS – and one big detail is tech / energy efficiency.  A LEED Platinum or a Passive House certification is a geek badge of honor and an outlet for a couple hundred dollars per square foot.
So- we are BACK.  tonic construction will be getting the permit.  We're back working with International Precast.  I might get to go see my windows.  I bought yet ANOTHER Grohe F1 faucet on eBay.  I need to procure the remaining appliances and hoping I can finally find a deal on my Gaggenau induction cooktop.
Logically, this should be a "simple" house to build. (Note I did not say easy…)  We've tried to minimize the subcontractors, we're not talking about a bunch of "fussy" finishes, and greeting dried in should be reasonably quick.  As always, the devil will be in the details, but we've assembled a damn good team – and we're in it together.