Short diversion here.
Triangle Modernist Houses, whom I have referenced here often, helped bring the George Matsumoto Prize to life.  In it's second year, the Prize is awarded annually to a Modernist house in NC.  Entries are submitted to a jury of accredited architects and also a public vote is one sixth of the total score.  See the 2013 entries and results here.

Congratulations to tonic design, Vinny Petrarca and Katherine Hogan, on winning this prestigious award for their Rank Residence, completed in 2012.  tonic design continues to carry on their tradition of award winning architecture.  Also congratulations to Michael Rank – who had the initial vision.  Check out this link for pics and also a link to an article in the Raleigh News & Observer for more press on this special home and the design influences behind it.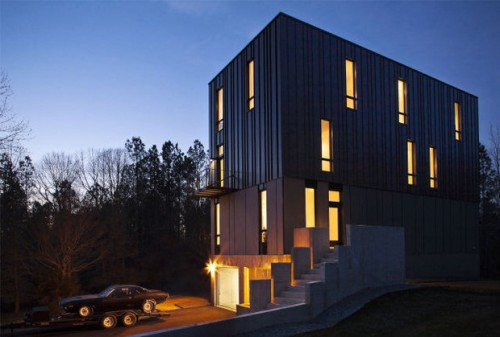 I had the pleasure of attending the awards and the NC AIA building in Raleigh.  After a lively happy hour (Thirst 4 Architecture), some crazy infused bourbon, and a talented band of architects – yes – a musical band, George Smart announced the People's Choice Awards, and then Frank Harmon took over to convey the jury's placings.  Despite some tough critiques on the entries, and some overall general comments on all the submissions, the remarks about the Rank Residence were extremely positive and fitting the Matsumoto Prize.
Congratulations to the team – and the talent at tonic runs deep.  We've chosen well.
One last announcement, Triangle Modernist Houses, is now NC Modernist Houses.  A name change that more accurately reflects the growing geographic reach of the nonprofit organization.